Factory_OS has assembled a team of visionary industry veterans who have each proven their commitment to the development of efficient, affordable housing in California and beyond.
The team's unrivaled experience and early success has positioned Factory OS to leverage off-site construction to narrow the housing affordability gap.
Watch the Team Video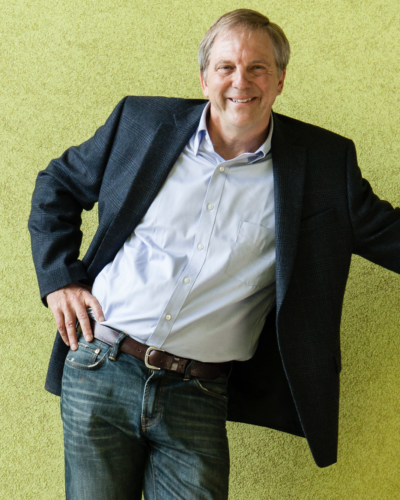 Rick Holliday
Co-Founder
Rick is a San Francisco Bay Area native, a social entrepreneur, and a pioneer in affordable housing construction. He has more than four decades' experience building affordable and market rate housing across California. In 1978 he helped create Eden Housing, which builds affordable homes for workforces and formerly homeless Californians. In the early 1980s, he and visionary housing leader Don Terner teamed up to establish BRIDGE Housing, which builds homes for families of modest means who have been priced out of the market. These remain two of the most successful non-profit housing corporations in the nation. In 1988 he founded Holliday Development, and went on to become a leader in leveraging the benefits of private development to create vibrant, sustainable communities the the Bay Area and beyond.
Today he is founder and CEO of Factory OS, an ambitious effort to ease the housing challenge by scaling the off site production of multifamily housing. Factory OS is a new approach to housing construction, integrating the design and build processes, powered by local union labor and pioneering in-house research and innovation. Having successfully developed the largest prefab home construction project in San Francisco history, Rick knows firsthand how powerful this technology can be.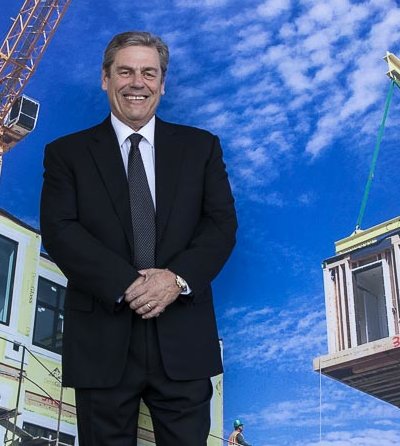 Larry Pace
Co-Founder
The founder and president of Cannon Constructors North, Larry Pace has more experience with off site construction than any other contractor in California. He has nearly four decades' experience building commercial structures and multifamily housing, with a hand in some of the Bay Area's most iconic buildings and restoration projects.
He has been an industry innovator since 1974, when he started with the Army Corps of Engineers. He worked his way up through construction to become one of the founding principals of Cannon's Northern California Division. He designed a new crane to facilitate construction of modular projects: A custom-built rigging system that uses four structural slings to lift and stack the modules in place. Today he has built hundreds of apartments and condos using prefab home construction technologies, and has worked through every mechanical, electrical, plumbing and structural variable to manifest cost and time savings that the traditional construction industry never dreamed possible. He maintains a close working relationship with multiple manufacturing facilities.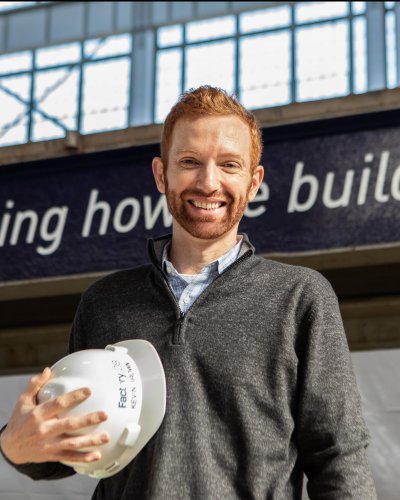 Kevin Brown
CEO
Bay Area native Kevin Brown has two decades of experience building and developing both affordable and market rate housing in Northern California.
As a Partner at Holliday Development, Kevin managed several large-scale infill and master plan developments, including the largest modular project in San Francisco's history in 2015-16 that was comprised of 330 modules.  It was this project that ultimately became the springboard for launching Factory_OS.  Since that successful completion, Kevin has also helped manage the financing and development of five additional large-scale modular projects totaling over 700 units and several hundred-million dollars of work.
Kevin has been involved with the development of Factory_OS from inception to stabilization with upwards of 500 employees. Prior to becoming CEO, he served as President of the company and was instrumental in the development of the Factory_OS operating system through coordination with Autodesk and the Factory_OS architecture and engineering team. He is responsible for setting the vision for the organization with a 360-degree appreciation from the initial partnership with our clients through to the completion of production.  Kevin leads with a deep commitment to expanding the opportunity for housing and advancing innovation that can scale housing solutions in our communities.
Kevin has a BA from Georgetown University in Business Administration with a focus on Finance and International Business, including a minor in Psychology.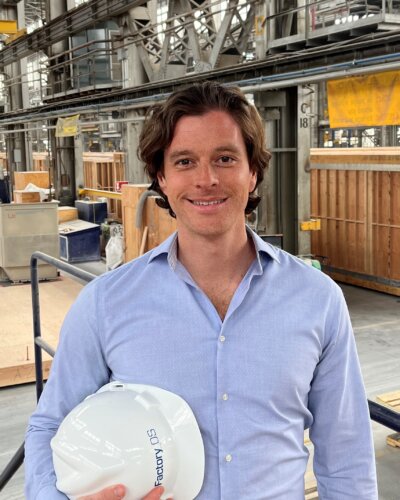 Kevin Castellanos
CFO
Kevin Castellanos has extensive experience in driving value in mid-stage growth companies. Kevin spent over 10 years on Wall Street in institutional investing, capital markets and M&A advisory. Most recently, Kevin spent 5 years as an investor with Black Diamond Capital Management, a $10 billion multi-asset strategy hybrid credit hedge / private equity fund. At Black Diamond, Kevin was responsible for supporting growth companies transitioning to profitability through i) restructuring/reorganizations, ii) improving management teams through change management and strategic planning, iii) executing capital markets transactions, as well as iv) executing strategic transactions such as mergers and acquisitions.
After over 10 years of working in traditional Wall Street capacities, Kevin shifted his career to be more oriented in more impactful work both to society and the planet. Kevin joined Factory_OS as a financial consultant in the Summer of 2021 and now serves as the CFO of the company. Kevin is responsible for the finance and accounting functions of the company as well corporate development including the capital structure as well as its strategy and growth.
Kevin has a Bachelor of Business Administration from the Red McCombs School of Business as well as Bachelor of Arts in Economics both from the University of Texas at Austin.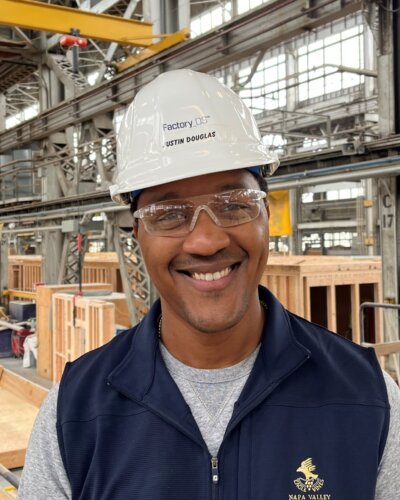 Justin Douglas
Plant Manager
Originally from Birmingham, Alabama, Justin arrived to California after joining the Factory_OS in December 2022. His background spans more than 13 years in the Operations Management profession along with 17 years as an United States Army Officer. During his time in the military, Justin managed all logistical operations throughout Southeast Afghanistan in support of Operation Enduring Freedom and earned a Bronze Star during the campaign. Justin completed his military service as an Engineering Officer where he served as the Lead Contract Officer, responsible for managing over 300 million in construction projects throughout Arifjan, Kuwait. Justin has managed large scale operations for Michelin's largest US production site and was the Plant Manager for Owens Corning's largest manufacturing site before joining Factory_OS. 
Now, Justin manages all daily production operations and focuses on enhancing Factory_OS' manufacturing standards. Justin earned a Bachelor of Psychology degree from the University of Alabama. He's also earned a double Masters in International Business Administration and Financial Analytics from the University of South Carolina – Darla Moore School of Business.
Matt Smith
VP of Business Development
Washington, D.C. born and raised, Matt relocated to California in 2020 to join the Factory_OS team. At Factory_OS, he currently serves as Vice President of Sales and Business Development. Matt takes pride in his responsiveness and his relentless support for his Factory_OS' clients. Prior to his time at Factory_OS, Matt had an almost decade long career in Commercial Real Estate representing some of the world's largest owners and occupiers in the Mid-Atlantic Region. While living in Washington, D.C., Matt served on the Young Executive boards of PLAYWORKS USA and The Washington Jesuit Academy. Matt graduated from The College of the Holy Cross in Worcester, Massachusetts and currently lives in San Francisco with his wife, Avery.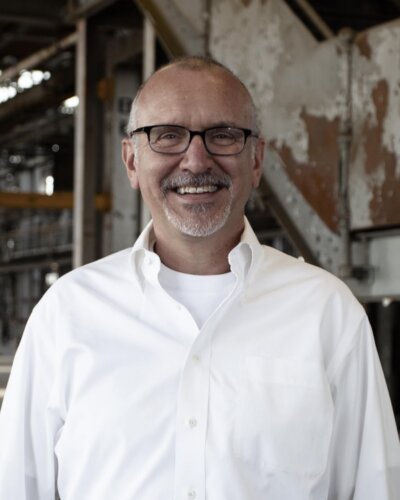 Andrew Meagher
VP Architecture & Engineering
Though originally from New York, Andrew has spent more than half his life in the Bay Area. His background spans more than thirty years in the architectural profession with the early part of his career focused on global retail design and rollout. He has spent the last twenty dedicated to addressing California's critical housing needs.
Andrew has directed projects across many disciplines, including master planning, mixed use, affordable, supportive, workforce housing, senior living, and new concept development. As Chief Design Officer Andrew is responsible for the creation of Factory OS's standardized volumetric designs and building systems and oversees all architectural & engineering activities. Andrew collaborates intensively with developer design teams, city agencies, non-profits, and community stakeholders through every stage of the process from feasibility through fabrication to maximize efficiencies that volumetric design can provide.
Prior to joining Factory OS Andrew designed 5880 Third Street San Francisco's largest modular project for Holliday Development. He earned a Bachelor of Architecture from the Virginia Tech.
Jamie Hiteshew
VP of Development
Jamie Hiteshew has spent the entirety of his career developing multifamily housing. His experience includes the development of both market rate and affordable housing communities. As Director of Development at Factory_OS, Jamie oversees day-to-day development activities from early entitlements work through construction completion. In addition to managing the development of Factory_OS's internal projects, Jamie is focused on the continued integration of Factory_OS' housing development services with our pipeline partners.
Prior to joining Factory_OS in 2018, Jamie spent over eight years at BRIDGE Housing Corporation, working on the Real Estate Development and Capital Markets teams.
Jamie has a BA in English and Political Science from Wesleyan University in Middletown, CT.
Jessica Goldbach
VP of Project Management
Jessica has had a long career focusing on all aspects of residential construction. She got her start working for Pfau Long Architecture for seven years as a project manager and project designer, then gained first-hand development experience through a role at Oakland-based Building Lab. In 2014, Jessica became a very early believer in the modular housing space and joined modular manufacturing company ZETA Communities where she led project management. After several years advancing the manufacturing side, Jessica joined Cannon Constructions as a general contractor project manager. There she spent several years leading modular housing projects from start-to-finish and gained a 360 degree understanding into every aspect of the factory-to-site hand off process as well as an unparalleled view into what it takes to bring successful modular projects through to completion.
In 2020, Jessica joined Factory_OS as its Vice President of Project Management where she is applying her decades long experience in modular development & construction to help ensure that all Factory_OS clients' projects complete both the manufacturing process and the site-construction successfully and with the best experience possible.
David Dixon
VP of Supply Chain & Procurement
David began his career leading a manufacturing startup's supply chain team as they grew from $20 million to $200+ million in annual sales over 8 years. He has since brought his supply chain and information systems development experience to Factory_OS to develop best in class manufacturing systems and processes to the company's estimating, procurement and warehousing functions.
After moving to the Bay Area in 2019, David became increasingly interested in the housing affordability issue.  While attending Berkeley he explored this issue from the point of view of the legal, business, architecture and planning schools. With construction costs at close to $1 Million per home it became clear that the first requirement to solve the housing crisis in California was to bring down the cost of construction. This combined with his background in manufacturing galvanized his belief that modular construction is the solution and ultimately lead him to join Factory_OS as the premier leader in the modular space. He has now been at the company for 3 years and overseen the procurement for 10+ projects and over 1,000 living units.
David has an MBA from UC Berkeley and lives in the East Bay with his wife Zoey and their three children.
Cherry Pang
VP of Finance & Accounting
Cherry is an accomplished finance executive with a diverse background and extensive experience in global accounting and financial management across multiple industries with global companies spanning the US, Hong Kong, China and other countries. Cherry's career began at a public accounting firm in San Francisco, where she gained valuable experience before moving on to senior finance roles at several public, pre-IPO, and multinational companies. Her ability to work effectively with senior leaders and develop and execute strategic initiatives has been key to her success.
Cherry is committed to maintaining the highest levels of financial integrity and transparency, and she is dedicated to building a culture of continuous improvement and innovation. Her Bachelor of Science degrees in both accounting and computer information system, as well as a Master degree in taxation, have equipped her with the knowledge and skills to excel in her field.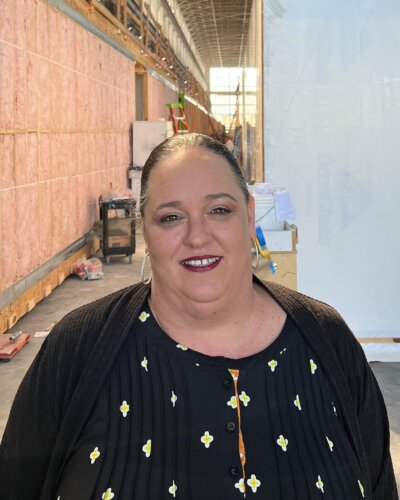 Tina Freyer
HR Director
Tina is a Pittsburgh, Pennsylvania transplant, Human Resources leader, and lifetime learner. Her background in human resources spans more than two decades. Working for companies like NorCal Pipeline, SunEdison Solar, and Coca-Cola has honed Tina's craft, preparing her for her current role as Human Resource Director.
Tina oversees all of Factory_OS' recruiting, hiring and retention processes as well as the company's safety and training support programs. A devoted advocate for improving the condition of others. Tina sits on the board for the Bay Area Crisis Nursery, a local non-profit engaged in battling child abuse and neglect. Tina earned a Bachelor of Arts Degree in Psychology from the University of Arizona.
Nate Kaylor
Associate Director of Innovation
Nate Kaylor is an architect-turned-technology specialist with a passion for cutting-edge design and innovative technology. He holds a Bachelor's degree in Architecture from the University of Kansas and a Master's degree at the Institute for Computational Design in Stuttgart, Germany, an institution distinguished for its research leadership.
With nearly a decade of experience, Nate specializes in Computational Design and Digital Fabrication, working on various projects with Architectural or Engineering Consultant Teams. His expertise lies in using computational design tools to model and fabricate complex geometries impossible by traditional methods. 
At Factory OS, Nate leads a team and collaborates with industry partners like Autodesk, combining innovative expertise in Virtual Design and Construction and Digital Fabrication to lower construction costs and timelines.
Peter Palmisano
Board Member & Advisor
Mr. Palmisano founded Pacific Union Marketing Company, a fully integrated real estate marketing group specializing in innovative urban developments in 1987. Through the years, he has worked principally on creative development concepts such as Opera Plaza, San Francisco's first mix-use development, and the Peninsula Regent, a model life-care community in San Mateo. The company has successfully completed over $3 billion in residential sales within the Bay Area.
Working as a joint venture partner with leading local developers, Mr. Palmisano has been integral in the creation of many community landmarks. Noteworthy examples include pioneering San Francisco's first loft communities; California Center, a downtown office and hotel complex; and the country's first military base conversion at Hamilton Air Field in Marin County
Prior to 1979, Mr. Palmisano was Vice President and Regional Manager for World Savings and Loan after spending five years with Xerox Corporation as Marketing Manager for the Pacific Basin.
Today, Mr. Palmisano is a private investor and serves on several non-profit boards including Bridge Housing Corporation and Delancey Street Foundation. He was a founding board member of Mortgage.com, now Quicken Loans. He also serves as an advisor to private companies including Inman News and the Sundance Preserve Land Company.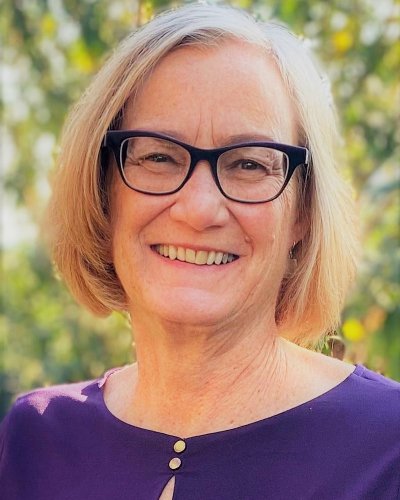 Carol Galante
Impact Advisor
Carol Galante has spent her life working to support and build housing for Americans from all walks of life. For five years she served in a series of top housing positions for President Barack Obama, including a period as Federal Housing Commissioner at the U.S. Department of Housing and Urban Development (HUD). She oversaw the country's trillion-dollar insurance portfolio for single-family and multifamily housing, and oversaw a recovery from one of the greatest housing collapses in history. Her responsibilities also included oversight of the Office of Manufactured Housing.
Before joining the federal government, Galante spent more than a decade as president and chief executive of BRIDGE Housing Corporation, the largest non-profit developer of affordable, mixed-income and mixed-use developments in California. After her time in Washington, she took a position as the I. Donald Terner Distinguished Professor in Affordable Housing and Urban Policy at UC Berkeley. At the university she created the Terner Center for Housing Innovation, and she presently serves as Founder and Advisor.
Galante leads the impact and innovation work at Factory OS with a focus on strategies to support housing affordability, environmental sustainability, and workforce development.